COOKGIRl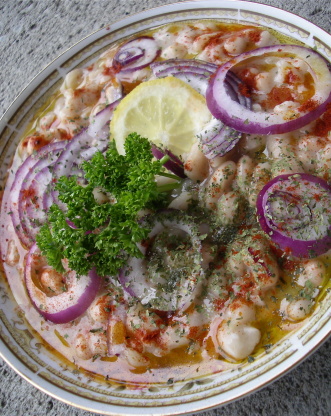 This is my version of crostini served at my favorite Mediterranean/Middle Eastern restaurant in town. What I noticed about the restaurant's version of crostini was the absence of an overly aggressive garlic flavor. So, I assumed they used roasted garlic as I've indicated in the recipe. It is strongly recommended for best results as well that you use the finest quality French baguette in this recipe-either homemade or bought from an established artisan bakery. Canned beans are certainly acceptable to substitute, although you'll need to be careful as canned beans have added sodium. Adapted from spacelingcafe.com. Smooth and creamy!
1

loaf French baguette, day old, thinly sliced

Crostini Mixture

15

ounces cooked cannellini beans, save some cooking liquid (or equivalent amount drained canned beans, liquid reserved)

6

roasted garlic cloves, minced (read *NOTE)

1

tablespoon sherry wine vinegar or 1 tablespoon white wine vinegar

1

tablespoon lemon juice
salt, to taste

1 -2

tablespoon extra virgin olive oil, to taste plus additional
extra virgin olive oil, for toasting and garnish

Garnish

spanish paprika
fresh Italian parsley, very finely minced
red onion ring, thinly sliced (use the smaller inner rings)
*NOTE: A word of advice: Using roasted garlic mellowed the flavor. Using unroasted garlic will in my opinion overpower the flavor however. DO NOT use jarred roasted garlic.
In a mixing bowl, combine the white beans, garlic, sherry vinegar, lemon juice and olive oil. Add a little bit of the cooking bean liquid if necessary to help in blending. Be careful not to add too much liquid though!
Mash the bean mixture with a fork until very smooth. If you think it is necessary to add again a very small amount of the bean cooking liquid to help in mashing, then do so.
Cover the bean mixture and allow to sit at least 1 hour. I recommend tasting and adjusting seasonings after standing time.
Heat a skillet over medium-high heat. Brush each slice of bread with olive oil on both sides, and toast in the skillet until it is lightly browned on both sides; approximately 2 minutes per side. (Alternatively, you can broil the baguette slices, but you need to be [[really]] careful not to burn the bread!).
Top each slice with some of the bean mixture.
Arrange the crostini slices on a pretty platter. Add a sprinkle of paprika over the slices, very lightly drizzle a small amount of olive oil on top of the toasted slices, garnish artfully with the fresh parsley and a smattering of red onion rings.
Serve immediately.
Prep and cooking times are estimated.