Cannellini Beans With Rosemary
PanNan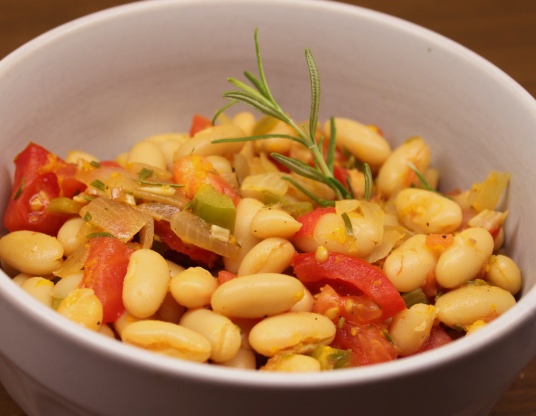 A tasty low-fat side or main dish flavored with a hint of Rosemary.

Top Review by PanNan
This was a healthy side and we love all the ingredients. However, we were not sure whether we cared for the flavor combination of fresh tomatoes and orange - perhaps it's something to get used to. The rosemary flavor was very subtle. I think we'd like this more as a salad, where there was still a bit of crunch to some of the veggies.
In a large non-stick skillet over medium heat, warm the oil. Add the green peppers, onion, and garlic, and saute for 4 minutes or until the peppers are soft.
Add the beans, broth, tomatoes, orange juice, orange peel, and rosemary.
Reduce heat to low, cover and cook for 10 minutes. Uncover, sprinkle with black pepper, and cook stirring occasionally for about 4 minutes.