Cannellini and Sausage Soup
This quick and delicious soup is one of my DHs favorites. Enjoy!
Directions
In a medium pot brown sausage.
Add onion and garlic and cook until softened.
Add tomatoes and broth and bring to a boil.
Reduce heat and simmer about 10 minutes.
Stir in beans and continue to simmer until warmed through.
Stir in basil and season to taste with salt and pepper.
Sprinkle with parmesan before serving.
Most Helpful
This was great. I made it during my lunch hour and threw it in the crock pot for the afternoon. I used a one pound roll of Bob Evan spicy sausage, so added another can of beans (kidney beans for the 2nd can) and another cup of beef broth. Also used basil that I had frozen from my garden. Delicious.
Really very tasty and simple, which is a winning combination in my recipe book! I doubled all ingredients, but used just 1 lb. of spicy Italian sausage. I was afraid that doubling the original amount would be overpowering. My adaptation worked out just great. I will definitely be making this again come the cooler weather!!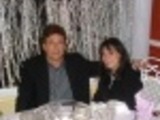 Well, I felt confident just from reading the ingredients that this would be a 4 star soup, but I was wrong: It's a 5 star soup! Wow, is this flavorful and satisfying, not to mention easy to make! I made it exactly as written, using hot Italian sausage. Fresh grated parmesan is the perfect complement. Made for PAC Spring 2008. Thanks, Chef Romie!