Canned the Summer in a Salsa !
Rita1652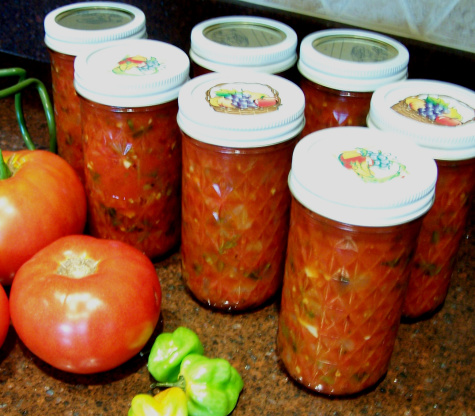 Made with red and green tomatoes, bell peppers, jalapeños, habanero, Tabasco chiles from the garden. Keeping the Hot and Spicy summer with you throughout the winter. I posted the recipe so you can adjust the pepper to the heat and variety you enjoy! This is HOT! Any of the hot chili's you use be sure to mince them fine! This can be made in 1 pint jars making 7 of them. I go for 1/2 pint because for gifts they go farther.

I love this recipe! I made it last summer and ran out by March. This summer I am definitely canning more jars. I typically leave some seeds in the jalapenos (we like it hot), add a little sugar, an extra can of tomato paste and extra cilantro. Sometimes I will even add black beans and corn. Thanks for the great recipe!
Place all but the paste and cilantro in a heavy bottom pot bring to a boil then simmer 10 minutes stirring occasionally.
Add paste stir in and cook 10 minutes.
Add the cilantro stir in and simmer for 5 more minutes.
Ladle into hot jars leaving 1/2 inch headspace. Wipe jars and adjust lids and process in water canner for 15 minutes.