michEgan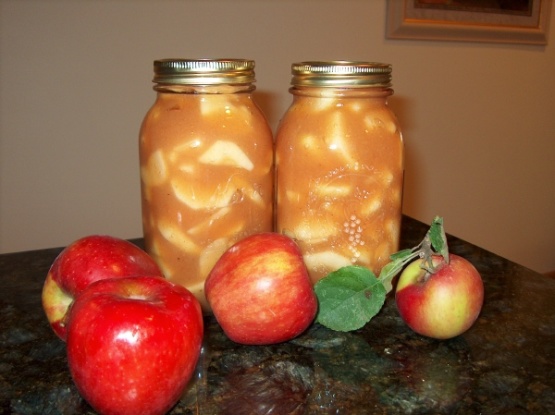 I got this recipe for the USDA on canning. It does not say to give a water bath so I don't think this recipe needs it, but if you want to, do it about 25 minutes in hot water bath.

This is a great recipe. However, as a certified Master Food Preserver through OSU Extension, I can tell you that if you are going to can this (as opposed to refrigerating or freezing it) you MUST process this in a water bath for 25 min. (0 - 1,000 ft. elevation), 30 min. (1,001 - 3,000 ft.), 35 min. (3,001 - 6,000 ft), or 40 min. (Above 6,000 ft) or the product may not be safe. If you are going to refrigerate, by all means feel free to play with the recipe, but if you are going to can this you must follow the recipe as written. DO NOT CUT BACK ON THE BOTTLED LEMON JUICE! If it's too tart, you can add more sugar to your taste. The acid level is essential to make the pie filling safe. Also keep in mind that Clear Jel is safer than cornstarch for canning and yields a better product.
Use firm crisp apples, such as golden delicious, Rome or other apples of similar quality.
Wash, peel and core the apples. Slice them about 1/2 inch wide and place in water containing ascorbic acid to prevent browning. Blanch 2 quarts at a time for 1 minute in boiling water. While blanching other apples, keep ones already blanched in covered pot to keep warm.
Combine the sugar, clear gelatin and cinnamon in large pot with the water and apple juice, food coloring and nutmeg. Stir and cook on medium high heat until the mixture thickens and begins to bubble.
Drain the apple slices from the water, reserving water.
Add lemon juice to water mixture and boil 1 minute more. Fold in the apple slices immediately and fill jars with mixture. Clean the rims and seal the jars.