Canh Bun Tau (Fish and Cellophane Noodle Soup)
NaCly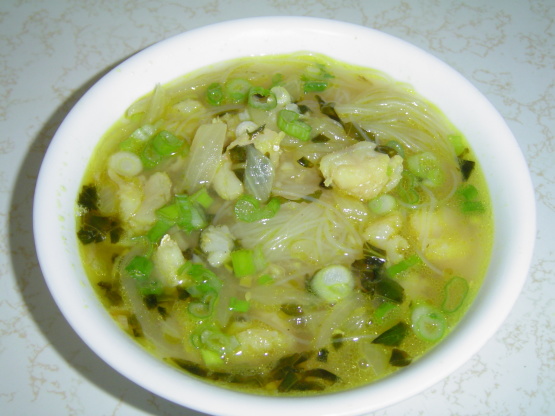 From the book, A Little Vietnamese Cookbook.

This soup was inedible, I only ate pieces of fish and threw the rest out. I used light soy sauce as it says on food.com that you could substitute it and 2 chopped anchovies in oil instead of anchovies paste. I used 2 limes instead of 1 lemon and that was way too much, the soup because sour-bitter. I suggest for whoever wants to try it out, since it had very good reviews, do not use substitutes but everything as in the recipe, that way you'll have a better chance of not spoiling it. This was the first time I've cooked anything Thai so maybe I should pat myself on the back that at least I didn't waste the fish.
Chop fish coarsely and cover with ginger, salt and pepper.
Set aside.
Heat oils in large saucepan and fry garlic and onions until light brown, then add turmeric, basil, and shrimp paste.
Add water, lemon juice, nuoc mam (fish sauce) and bring to a boil.
Add fish and cook for 4 minutes.
Add noodles and serve in individual bowls with chopped spring onions.