CoffeeB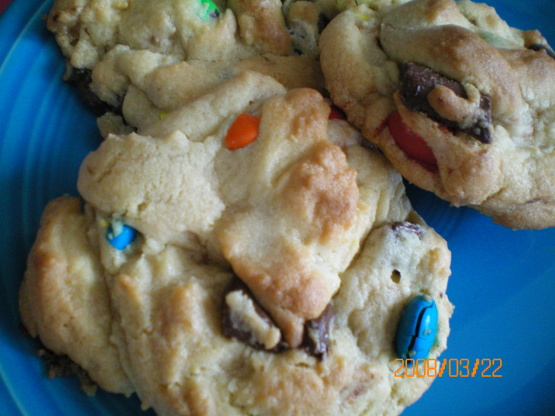 Everything you'd find in a candy store - in one cookie!
These are a fun cookie but oh so messy when coming out of the oven. Just remember to leave on the cookie sheet to cool at least 10 minutes. I'd say it's from the marshmellows. Next time I'd cut the amount used in 1/2 or omit entirely. I had the hardest time getting them off the cookie sheet in one piece. Still very good despite. Thanks for posting!
Preheat oven to 350° F (175°C).
In a bowl combine flour and baking soda.
In a large bowl, cream together the butter, brown sugar, and white sugar. Beat in the instant pudding mix until blended. Stir in the eggs and vanilla. Mix in the flour and baking soda.
Stir in the candies and marshmallows.
Bake 10-12 minutes.