Here's something fun for the little ones, or the little ones at heart! Prep times are estimate so are cook times. (I use microwave to melt the chocolate chips.
24 fun-size Nestle crunch bars (any other fun size bar will work)
48 miniature candy canes
48 gummy bears
236.59 ml chocolate chips
red string licorice (optional)
Directions
Unwrap candies and have ready, you will need to work quickly.
Place chocolate chips in a microwave safe bowl and microwave on 50% or mediumin 30 second intervals stirring between each interval, until chocolate is thoroughly melted.
Use melted chocolate to attach candy canes onto the sides of the the candy bar to create a sleigh.
Attach gummy bears sitting on the top of the candy bar with the melted chocolate.
If desired, add string of red licorice for a rope.
Reviews
Most Helpful
Soooooooo super cute! These are going to be the perfect touch to my Christmas baskets. The assembly was so easy and actually very relaxing. Thank you so much for posting.
I made these for our Christmas get-together. All the kids loved them -- it was 3 treats in 1 -- candy bar, candy cane and gummy bears. It was hard to keep the kids from eating all of them right away. Several people commented on how cute and unique they were, and I gave a copy of this recipe to them. Thanks for such a fun holiday treat!

We made this recipe as a craft for fun in Sunday School. The kids really enjoyed it. Some of them used the melted chocolate chips for the glue and some used some leftover white frosting a teacher brought from a gingerbread kit she had used the day before. Both worked fine. We could not find any string licorice to use so we did without. To set them up faster, just pop it in the freezer for about 5 minutes.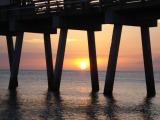 Holiday Central >