Pamela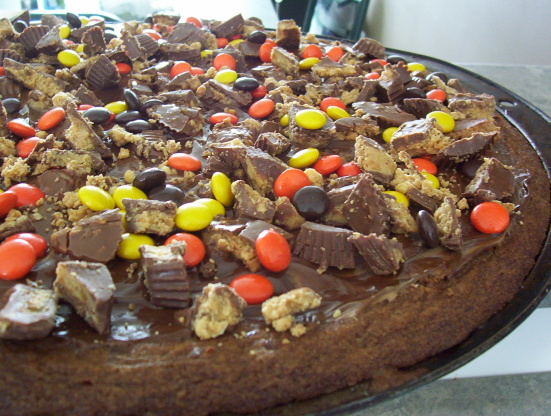 Everywhere I take this people rave over it! It is an awesome to take to parties and isn't that hard to make. I always have chocolate chip cookie dough in my fridge from the back of the bag.
Preheat oven to 325 degrees.
Grease large baking sheet or pizza pan.
Place whole bar of cookie dough scored side down, shaping to fit prepared baking sheet.
Bake for 30 to 35 minutes, or until golden brown.
Immediately sprinkle morsels over hot crust; drop peanut butter by spoonfuls onto morsels.
Let stand for 5 minutes or until morsels are shiny.
Gently spread chocolate and peanut butter evenly over cookie crust.
Sprinkle candy in single layer over pizza.
Cut into wedges.
Serve warm or at room temperature.