Pneuma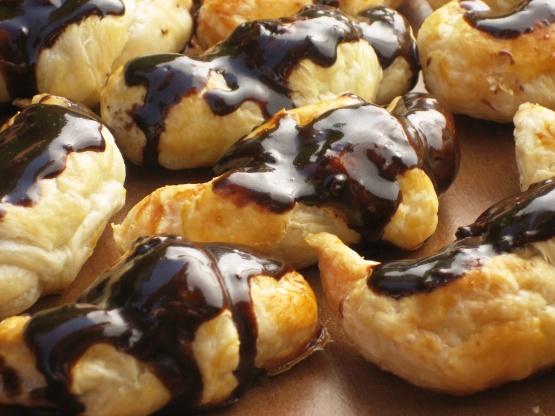 Yummy candy filled crescent rolls!

Top Review by Pneuma
We snack on the baking milk chocolate especially with DH whenever we run out of the chocolate bars so I used this for this recipe. Followed recipe as is and voila! So Delicious! They even melted inside. Then I melted another square with 1-2 tbsp milk and melted it in the microwave and poured it all over the crescents. Oooh chocolate heaven~! An easy yet delicious recipe. Definitely a 5! Thanks for sharing!
1

(8 ounce) can refrigerated crescent dinner rolls

2

candy bars, of your favorite chocolate candy
nutella (optional)
Unroll dough and separate into triangles as directed on the package.
Break candy bars into shapes that will fit in the crescent roll.
Sprinkle broken candy bits onto crescent roll.
Roll crescent up as directed on package.
Bake according to package.
Warm Nutella up in microwave and drizzle over baked rolls.
Enjoy!