J-Lynn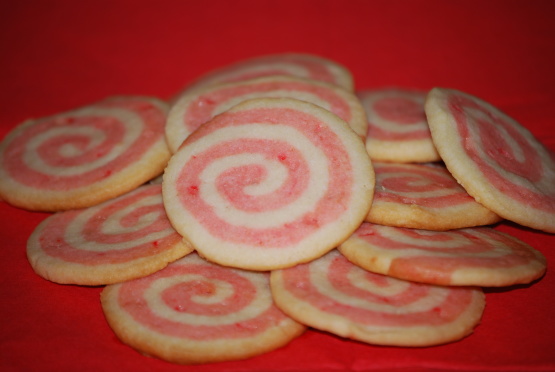 From Cook's Country magazine. Grind the peppermint candies in a food processor until they are pulverized. Times do not include chill time of at least 2 hours.

Quartered this recipe to try it out before Christmas and it worked very well, getting about 24 very little cookies. Rolled to a 7inch x 4inch rectangle which didn't make many swirls since it was so small but very cute little biscuits came out. In the oven for about 7 to 8 minutes, watching like a hawk since they do overbake very easily. Crushed 5 candycanes though may use a bit more peppermint next time, or add peppermint to both parts of the dough since the flavour didn't seem very strong for our little cookies.
They're just like sugar cookies, a lot more like a biscuit in the UK but were still sweet enough to not need anything extra. Though having said that, it would be interesting to try them half dipped in some sort of peppermint chocolate.... Definitely a thought for next time! Will be making these on Christmas day!
whisk flour, baking powder, and salt in bowl.
With electric mixer on medium-high speed, beat butter and sugar until light and fluffy (about 2 minutes).
Beat in egg until incorporated.
Reduce speed to low, add flour mixture, and mix until dough forms (about 1 minute).
Remove half of the dough from bowl and reserve.
Add extracts, candy, and food coloring to remaining dough and mix until combined.
Place reserved dough between 2 sheets of parchment paper and roll into 14 by 8-inch rectangle. Repeat with peppermint dough, then place on top fo plain dough and press gently to adhere.
With long side facing you, roll dough into log.
Wrap dough in plastic wrap and refrigerate until firm, at least 2 hours or up to 3 days.
Adjust oven racks to upper-middle and lower-middle positions and heat oven to 375 degrees.
Line 2 baking sheets with parchment paper.
Slice chilled dough into 1/4-inch rounds and place 1 inch apart on prepared baking sheets.
Bake until edges are just golden (12-14 minutes), switching and rotating sheets halfway through baking.
Let cool 10 minutes on sheet, then transfer to wire rack and cool completely.
Repeat with remaining dough.