Candy Cane Cookies - Sandra Lee
megs_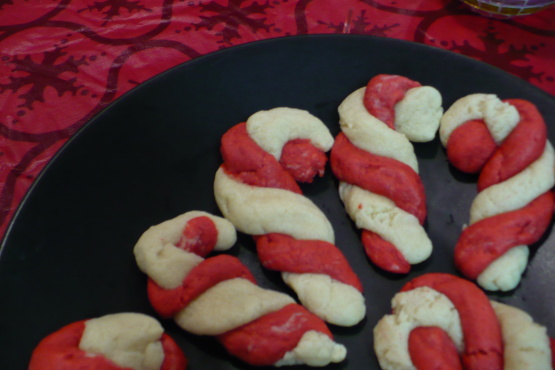 I remember making these as a little girl with my mom and grandmother. This is Sandra Lee's recipe from foodnetwork.com - so simple, but ohhh so good. Caution: they are addictive! :)

Just saw I forgot to review this.
Great Recipe and fun to make both the cookies & the special memories.
Thanks for posting this one !
1

(17 1/2 ounce) box sugar cookie mix
1⁄4 cup butter, melted

1

egg
1⁄3 cup cream cheese, softened
1⁄2 cup all-purpose flour, plus additional for surface
red food coloring
1 1⁄2 teaspoons peppermint extract
Preheat oven to 325 degrees F.
In a bowl, combine sugar cookie mix, melted butter, egg, cream cheese, and flour; mix together to form dough. Separate dough into 2 equal portions and place in 2 different bowls.
Add red food coloring gradually to 1 bowl of dough, kneading together until desired shade of red is created.
To second bowl of uncolored dough, add peppermint extract and knead together.
On a floured work surface, shape each dough into balls and then roll each ball into 1/4-inch-wide ropes, each about 6 inches long.
For each cookie, carefully twist some of the red and white ropes of dough together and shape into a candy cane. Spread candy canes out on cookie sheets and bake on the top shelf of the oven for about 10 to 12 minutes. Transfer to a rack to cool before serving.