Candy Cane Cookies (Or Cutouts!)
hlkljgk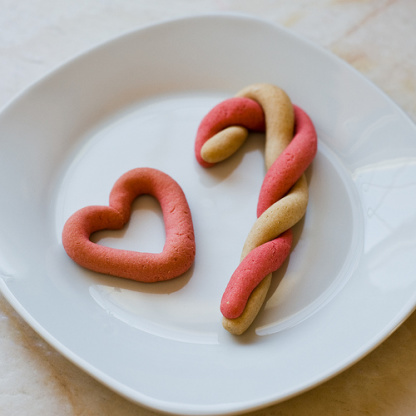 My best friend in college gave me this recipe from her mom's collection. They're wonderful as written, however, add a little extra flour to the dough, skip tinting half red, and you have the most delicious sugar cookie dough for cookie cutouts I've ever had! I've used this dough for Xmas Cutouts for over a decade now. I use the icing from Kittencal's Buttery Cut-Out Sugar Cookies W/ Icing That Hardens.

I followed the recipe exactly, but I couldn't roll them out! The dough just kept falling apart. So I adlibbed and marbleized the 2 colours into round cookies instead. They were delicious! And everyone appreciated them in their Christmas tins of goodies!
Beat together butter, powdered sugar, egg, almond extract and vanilla.
Mix together flour and salt, and add to the wet ingredients, stirring until well-combined.
Divide dough in half. Add red food coloring to half the dough. Roll even logs 1/2" wide of red dough, then white dough. Twist together and bend top to form cane shape.
Bake on ungreased sheet for 9 minute at 375 deg. Can be sprinkled with a crushed candy cane and sugar mixture while still warm.