tasb395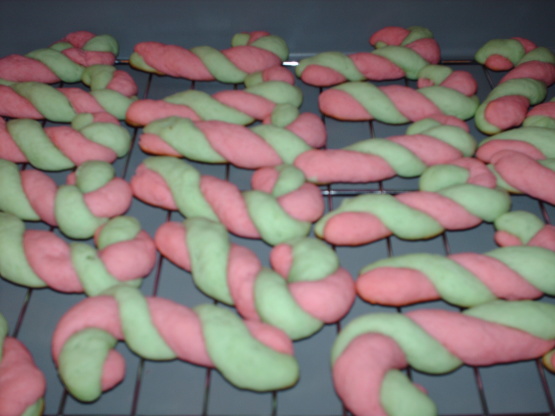 I don't know where this one came from but my high school cooking class. This was one of the cookies we made for the Christmas Dinner they had on the last day of school.

The dough was a disaster. I followed the recipe exactly and when I got it out of the fridge after 4 hours it was so hard I could barely get it out of the bowl. When I did finally get it out, it was so sticky that after making 8 cookies even my 3 year old didn't want to touch it anymore. I had to scrape the remaining dough off the table with a knife since that was tho only wat to get it off. We baked the ones we made and they were okay but they sort of taste like flour and water with mint extact.
Cream together butter and sugar until smooth.
Beat in egg, vanilla and peppermint extract.
Stir together flour, baking powder and salt.
Alternately with milk add dry ingredients to creamed butter mixture. 3 dry, 2 milk. Until smooth and pliable.
Divide in 1/2; blend food coloring into 1/2.
Cover and chill for 4 hours or firm.
Cut each into 48 pieces.
With hands, gently roll one piece of each color into 4 inch rope. Place side by side and twist together.
Put on cookie sheet, form a cane.
Bake at 375 F for 12-15 minutes.
Hints: Gently squish the ropes together and onto the cookie sheet, that way they stay together and don't unravel. Since I make 8 dozen each year, I make 2 batches of dough and add the food coloring to the milk of one dough, that way I don't have to over work the dough trying to get the color evenly mixed inches.