Ms. B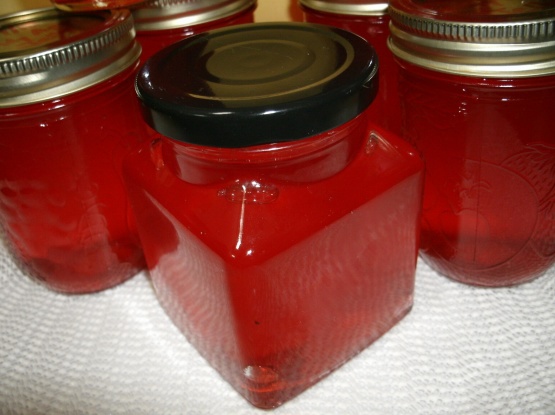 This is posted by request and I found it on recipegoldmine.com Also, I have no idea how much this will make-I'd boil a full rack of jars and work from there.

This makes the whole house smell so good you want to leave it cooking! Really easy, with an old fashioned Candy Apple taste. Can be made all year round. Will make this often!
7

cups apple juice

1

cup red cinnamon candies

8

cups white sugar

1

(1 3/4 ounce) boxsure-jell pectin
1⁄2 teaspoon butter
Measure apple juice and cinnamon candies into an 8 quart saucepan.
Heat and stir to melt candies.
Measure sugar into a separate bowl.
Stir in fruit pectin into fruit juice in saucepan.
Add butter.
Bring to a boil (rolling) stirring constantly.
Quickly stir in all sugar.
Return to full rolling boil and boil EXACTLY 1 minute, stirring constantly.
Remove from heat.
Skim off foam and ladle into pint jars leaving 0.125 inch head space.
Process in a boiling water bath for 5 minutes at altitudes up to 1000 feet.