PaulaG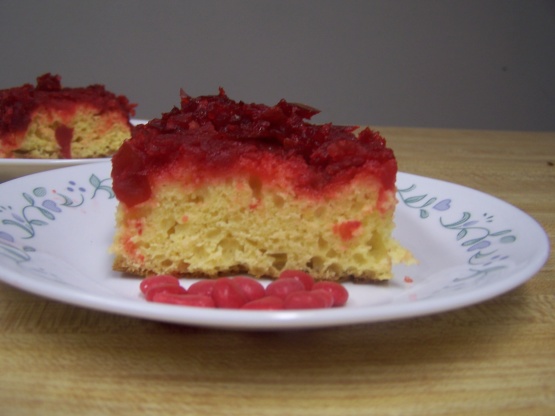 This tastes just like the red candy apples that we are all so familiar with. The apples are cooked in a mixture that includes red hot cinnamon candies, then placed in the bottom of a baking pan and topped with the yellow sour cream cake batter. Cake is inverted over a serving platter when done and the red apple topping makes for a great presentation. Delicious!

I thought this cake was going to be a winner with the family and it just wasn't. The cake flavor is wonderful, they didn't like the cinnamon candy in the apples. I was very surprised at this, I liked it. But I'm thinking I could make the apples plain, and spice them more like apple pie and then proceed with the rest of the recipe because the cake is really good.
Preheat oven to 350° and spray a 13x9 baking pan with non stick spray.
In a large saucepan, combine the cinnamon candies, sugar, 1/2 cup of apple juice and food coloring and heat over high heat, stirring constantly until candy dissolves.
Add apples and bring to a boil, reduce heat and stir occasionally for 5 to 7 minutes or until apples are tender.
Spoon filling into baking pan.
In a medium bowl, combine all cake ingredients and mix well.
Spoon over the apple mixture, spreading to completely cover the apples.
Bake for 30 to 35 minutes or until a toothpick inserted in the center comes out clean.
Allow to cool slightly, then invert over a large serving platter.
Cool completely, then cut into squares to serve.