Kim127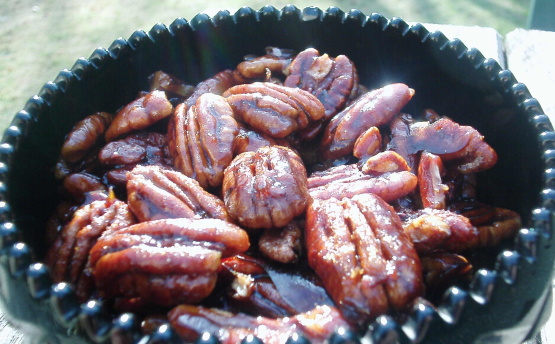 Fancy Schmancy BUT Easy Peasy... hehehe Use to dress up a cake, add to a filling between cake layers, top a sweet potato casserole or eat them as they are. These are beautiful and delicious. Fantabulously awesome with my Cinnamon Cream Cheese Frosting #165880 and/or my Praline Sauce #165874. The Pecan is the TEXAS state NUT! Hmmmm.... I thought that was my dh!....

Great recipe-thanks for posting! I added a sprinkle of cinnamon and cooked then on parchment to make for easy removal and cleaning. As soon as I took them out of the oven I gave them one more stir and then took the parchment off the cookie sheet and let them cool on a cutting board (still on the parchment). I found that they did get a little close to being well done, so I will probably cut the cook time down a little. Thanks for post!
In a small bowl combine brown sugar and orange juice. Add pecans and stir to coat.
Spread in an 8x8 sprayed or greased pan.
Bake for 12 minutes at 350°F or until nuts are browned and syrup is bubbly, stirring once.
Pour out on a greased baking sheet and separate nuts.
Cool on a wire rack.