Cuistot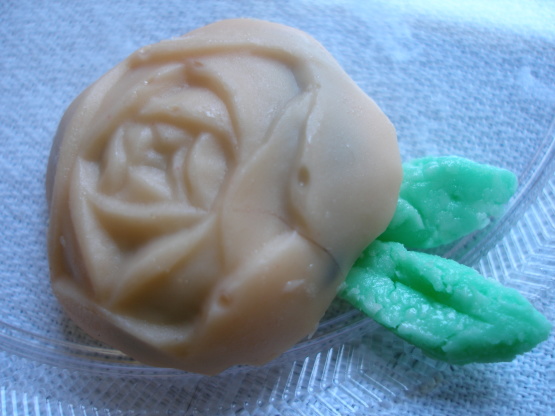 These wonderful little jewels are terrific for the holidays. They can be made alone, or in combination with Christmas Candles Centerpiece. You will need Plastic leaf molds which are available where cake decorating supplies are sold. Or you can use any shape candy mold and different flavors/food coloring depending on the occasion.

This makes for a TON of candy!! I couldn't for the life of me find either the mint molds or the fondant cutters so I formed little leaves by hand. I did have to add probably 2 more cups of powdered sugar, but that is likely because I'm in a humid, hot OK summer. The candies were a little fragile, but again I wonder if that was because there is just so much humidity here that they couldn't really dry well. I plan to try these again at Christmas to add to my goody boxes. These have a light creamy texture that just melts in your mouth! Simple and yummy, I plan to try various flavorings.
Beat cream cheese until light and fluffy. Gradually add Confectioners Sugar, heating well (mixture will be dry and crumbly).
Add peppermint extract and mix well. Divide and color ball of mixture with green food coloring. (Candy may be bagged in plastic and held at room temperature for several days at this point, if desired).
If mixture becomes sticky as it stands, knead in more confectioners sugar until candy is smooth and pliable.
Pinch off a small piece of candy and roll into a ball. Roll ball in sugar and press, one at a time into plastic mold. Immediately turn mold over onto waxed or parchment paper and release candy leaves. Allow to dry, uncovered, overnight.
Store in an airtight container at room temperature.