Candied Kumquats in Syrup
Ambervim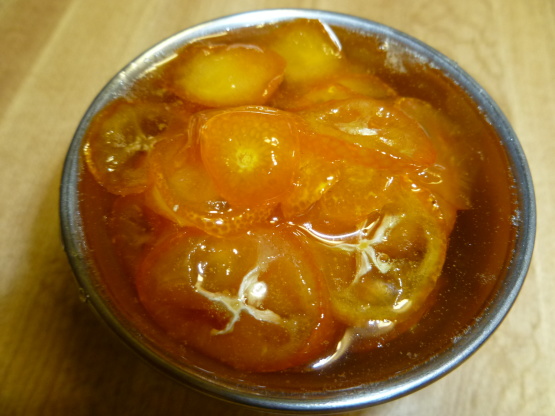 I found this in Martha Stewart Living magazine. Easy and yummy! These are great to eat out of hand or as a topping for cakes, over parfaits, etc. Rooted in Asian cuisine, but also Spanish!

I did this with kumquats that were frozen and thawed. I used a lot more kumquats than just 4 ounces - probably about 10 ounces or more, it was at least 2 cups when sliced. It was still plenty of syrup, I think. The main reason I tried this was because I seem to be allergic to something in kumquats - they irritate my mouth/lips. But after cooking them like this, there was almost NO burning feeling when eating them. Unfortunately this means I'm tempted to eat the whole batch of them, haha.
Bring the sugar and water to a boil in a small saucepan over medium high heat and stir until the sugar has been dissolved.
Reduce the heat to medium low.
Add the kumquat slices and simmer until tender and almost translucent, about 15-20 minutes.
Let cool in the syrup.
Kumquats can be refrigerated in an airtight container up to 2 weeks.