Annacia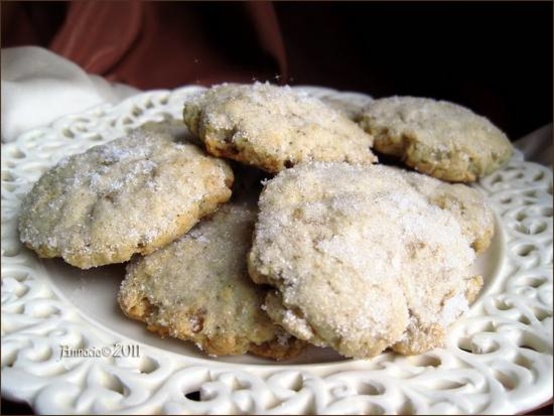 Even though I have several cookies that are traditional to make for Christmas, every year, I like to try a new cookie. You never know when you'll find a real winner. Last year I found this recipe -- and a winner it is! I had just gotten some fresh crystalized ginger and wanted to use it in an easy recipe. This cookie, which I found at Cooks.com. fits the bill perfectly. It has a hauntingly subtle flavor -- and when you get to a chunk of crystalized ginger, WOW! Deliious!

These are yummy cookies alright. I used Splenda for the sugar and then sunk my good intension's by doubling the candied ginger, lol. I made the recipe for 1 dozen cookies and got exactly that. I set the timer for 10 mins and then did the dishes. I did find that the 10 mins was just a little bit too long for my oven. They would have been perfect with 1 -1.5 mins less. That was my fault for not watching them more closely since I know that my oven runs hot. This was a great trial run for Christmas and I'm going to enjoy eating this dozen :D
Preheat oven to 350 degrees F.
Cream butter and sugar. Add egg and mix well. Combine flour, soda, cinnamon, cloves and salt, mixing to combine. Add to creamed ingredients and mix well. Chill.
Roll into balls smaller than golf balls and flatten with the bottom of a glass dipped in sugar. These spread a little so don't crowd.
Bake in preheated oven for 10 minutes.
NOTE: These are very plain looking cookies. You may want to melt chocolate chips and drizzle over the cookies to "fancy them up" a bit.