Yoster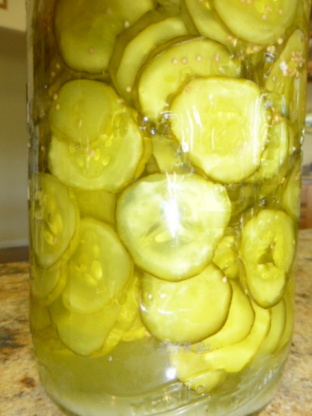 These taste like "homemade" but with a fraction of the effort. I like to keep a jar of them in the refrigerator to add to tuna salad and sandwiches.
Top Review by Yoster
I am a new diabetic and was looking for a good sweet pickle recipe. I made many using different sweeteners per each recipe but never found the taste I was looking for. I had used this recipe in the past with good results using real sugar so I decided to try it with my Xylo Sweet ( Xylitol) a plant soured sweetener I like with less aftertaste. I get it at our local Health Food Store. Well it was a home run. I made a double batch of the brine to accommodate the 2 quart jar of pickles I bought. Go big or go home is what I say. I did have a bit of a difficult time getting all the sweetener to dissolve. I used a 4 cup glass measuring cup to heat the vinegar in the microwave. After it was hot I added the sweetener then stirred it up . I reheated it again. doing this several times. The brine never did go clear but most of the sweetener had dissolved. It kept dissolving after I filled the jar and every time I shook it up. The end results were fabulous. Even after just a few hours the taste was wonderful. My DH couldn't keep out of them. I really don't think anyone could tell they were sugar free. Absolutely no funny after taste, they only got better after sitting over night in the frig.
Drain pickles discarding liquid.
Cut the pickles into 1/4-inch slices (I actually like them cut a little thicker than this... between 1/4-inch and 1/2-inch).
Place cut pickles back into the jar.
Tie the pickling spices into a piece of muslin and place into the jar.
Heat vinegar and sugar just until sugar dissolves.
Pour over pickles.
Refrigerate pickles for four days, shaking the jar each day.
At the end of one week, remove the bag of spices.
Pickles are ready to use after four days and keep indefinitely in the refrigerator.