Candied Apple Rings or Slices
twissis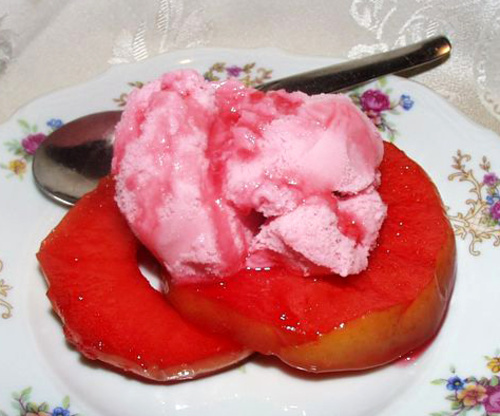 I came up with this recipe to try and duplicate the apple rings that I used to have when I was growing up.
Slice the apples into thin rings.
In a dutch oven or soup kettle put the water, sugar and red cinnamon candies.
Bring the mixture to a boil and then reduce heat to medium, stirring occasionally.
When the cinnamon candies have dissolved, add the apple rings.
Simmer for 15 minutes on lowish heat until the apples are tender.
While the apples are simmering, about every 5 minutes gently stir the mixture.
When the apples are cooked, turn off the heat and allow the apples to cool in the syrup.
They will continue to darken in color as they sit in the syrup.
Serve either chilled or at room temperature.