Candied Apple Rings or Slices
twissis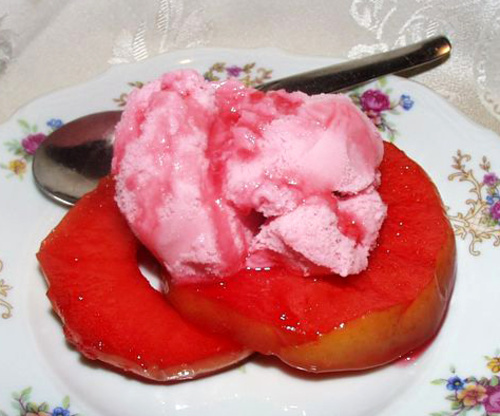 I came up with this recipe to try and duplicate the apple rings that I used to have when I was growing up.

Thx to PAC Fall 2007, I have today made 2 of the most incredible recipes & this is 1 of them. I wish I had thot of this recipe because cinnamon candies are 1 of my favourite ingredients, I bring them back from the U.S. & I have several recipes using them. These candied apple rings are divine & so easy-to-fix. I got creative & used the metal screw cap from my Amarula bottle to uniformly core the apple slices & it worked like a charm. I made half of them in rings & halved the other slices. These are definitely dessert-worthy, but also would be excellent as a side item to roast pork or roast duck entrees. We tried them 1) Topped w/whipped cream & drizzled w/some of the syrup over it, 2) Served along side frozen vanilla yoghurt that I mixed w/some of the syrup & finally 3) I mixed some of the syrup w/Sprite Zero to make a downright dandy fizzy drink that I garnished w/1 of the rings. I hope to post pics of all 3 for you. *KUDOS* for this spec recipe & thx for sharing it w/us. :-)
Slice the apples into thin rings.
In a dutch oven or soup kettle put the water, sugar and red cinnamon candies.
Bring the mixture to a boil and then reduce heat to medium, stirring occasionally.
When the cinnamon candies have dissolved, add the apple rings.
Simmer for 15 minutes on lowish heat until the apples are tender.
While the apples are simmering, about every 5 minutes gently stir the mixture.
When the apples are cooked, turn off the heat and allow the apples to cool in the syrup.
They will continue to darken in color as they sit in the syrup.
Serve either chilled or at room temperature.