JustJanS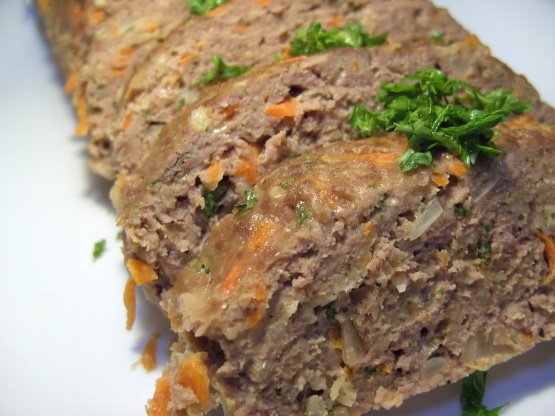 I created this meatloaf after DH informed me he wasn't a meatloaf fan. The whole family really likes this recipe. It freezes well - freeze uncooked. We think it has the perfect blend of flavors and I like the leftovers for lunch the next day. If there are leftovers. :)

I was impressed with how well it sliced and it tastes really good. I made a few minor changes: used ground venison instead of beef, used two eggs, used a heaping tablespoonful of dried parsley plus a teaspoon of dried winter savory, and used 3/4 teaspoon garlic salt and no regular salt. It cooked perfectly to 170 degrees in 1-1/2 hrs in a large loaf pan in my toaster oven. I did glaze it for the last 20 minutes with 1/2 cup catsup, 1/3 cup maple syrup, and a tablespoon of grainy mustard mixed together. I made sure to rest it before cutting and it sliced like a dream. Served it with microwave-baked Yukon Gold potatoes with a dab of butter, and sauteed kale with garlic. I don't think my changes had much effect on the recipe, they were just minor enhancements that worked well. So good, thank you.
Mix all ingredients well.
Place in greased loaf pan.
Bake at 325 degrees for 1 1/2-2 hours or until the center is not pink.