Parsley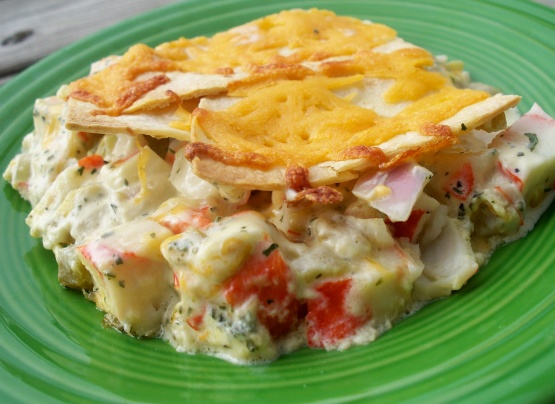 I had this at a church dinner years ago and HAD to have the recipe! It is deceptively flavorful and so rich. A nice Mexican rice and a dab of sour cream and avocado salad are tasty additions to make a complete meal.

Unique! Rich! If you are seeking a really different and delicious seafood/Mexican dish this is IT!!! Would be a stunner at a dinner party - and a small portion goes a long way! I am glad you insisted on getting this recipe at your church dinner! Thank you for sharing it.
Preheat oven to 350 degrees.
Grease an 8 inch square pan.
Layer 4 of the quartered tortillas covering the bottom of pan completely.
Combine peppers, crab, 1 c.
cheese, onion, and the cilantro.
Whisk together cream and eggs: stir into crab mixture.
Add salt and pepper to taste.
Pour over tortillas.
Top with remaining quartered tortillas and remaining cheese.
Bake for 45 minutes.