Canberra Pumpkin and Coconut Soup
Peter J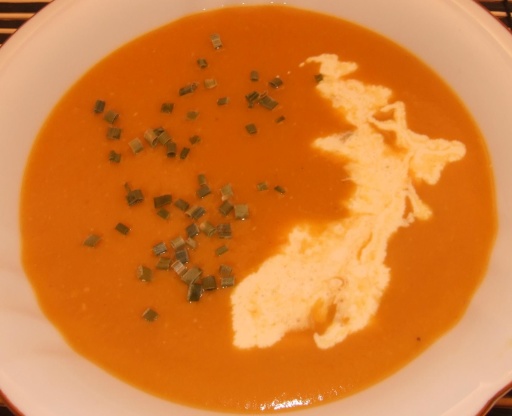 Another lovely recipe from Rob Oliver. this soup ups the ante on the Australian classic. Two cups of canned pureed pumpkin can be used in place of fresh pumpkin; vegetable stock can replace the chicken stock. Also, to cut down on fat, I use lite coconut milk.

Wow - this soup is awesome! Can be done much sooner than specified, I diced the potato fairly small and only simmered for 15 minutes instead of the 30-40 indicated; on a night when I needed dinner done quickly, this was a great choice. I used canned pumpkin, fat free chicken broth and lite coconut milk, which made the soup light in calories too! All in all, really great soup that I plan to make again now that cooler weather is near.
Heat the oil in a large pot.
Saute onions until soft, but not colored.
Add potatoes, pumpkin and garlic. Stir through.
Sprinkle in dried herbs, stir and cook for a further 2 minutes, ensuring nothing sticks.
Add the stock and coconut milk. Bring to the boil, cover and reduce heat to a simmer for approximately 30-40 minutes.
Blend soup with a food processor or stick blender, until smooth (the stick blender is much easier).
If you like a very silky texture, put the soup through a fine mesh strainer.
Season to taste, add the chopped chives and stir through.
Serve with a little cream and fresh chives as garnish.