Food.com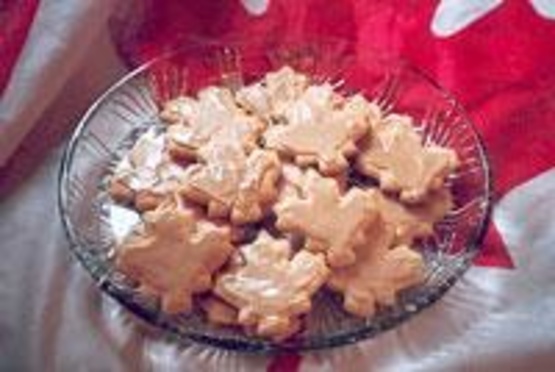 I make this often, I believe it came from an old Good Housekeeping magazine, judging from the cliping. Original recipe called for maple syrup or maple-flavor syrup. I've tried both. Use the real thing, the maple-flavored gives it hardly any flavor at all. Also, the cookies seem to "ripen" after a couple of days. These are very good.

I made these cookies for Canada Day, using real maple syrup and real butter. I iced them with Sugar Cookie Icing (recipe #64015) to which I added maple extract. They looked great and they tasted good too. Despite using real maple syrup, I didn't find the maple taste came through very strongly... it was more of a subtle maple taste. The cookies weren't terribly sweet either, but rich and buttery. I brought them to work to share with my co-workers and I got rave reviews, so I guess these Canada Day cookies were a success!
Into large bowl, measure all ingredients.
With mixer on low speed, beat ingredients until well mixed, occasionally scraping bowl with rubber spatula.
Shape dough into ball; wrap with plastic wrap.
Refrigerate dough 1 hour or until easy to handle.
Preheat oven to 350*F.
Grease large cookie sheet.
On lightly floured surface, with lightly floured rolling pin, roll 1/3 of the dough at a time 1/8 inch thick, keeping remaining dough refrigerated.
With floured 3 1/2 inch maple leaf shaped cookie cutter, cut dough into leaves.
Place cookies 1 inch apart on greased cookie sheet (or use parchment lined sheets.) Bake 10 minutes or until golden.
With pancake turner, carefully remove to wire racks to cool.
Repeat until all dough is used, greasing cookie sheet each time.
(If not using parchment).
Store cookies in tightly covered container.