Canadian Firefighter's Meatloaf
eddieb65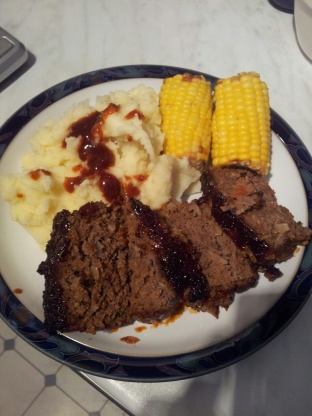 It is said that Canadian firefighters particularly enjoy the Dijon mustard and salsa in this meatloaf!

I can't talk for any Canadian firefighters, but we thought that this meatloaf was awesome!
Like Teresa, mine didn't hold together too well, but who cares, it tasted wonderful, and the entire family ( especially the 6 and 4 year olds) virtually inhaled it, and told me that I could make it again!!
Easy to prepare with wonderful flavours..we loved it!
A definite keeper for me.
Made as a big THANK YOU for Syd for being the HOST WITH THE MOST in PRMR..x
Preheat oven to 375 degrees Fahrenheit.
Grease a 9" loaf pan.
In a small bowl, soak bread in warm water.
Place beef in large bowl; drain bread and add to beef.
Add both onions, salsa, mustard, Worcestershire sauce, garlic, salt and pepper.
Mix by hand until well blended.
Form into a loaf and place in prepared loaf pan.
Bake 1 hour.
Drain off excess fat and top with barbeque sauce.
Return to oven and bake an additional 15 minutes.
Serve and enjoy!