PCrocker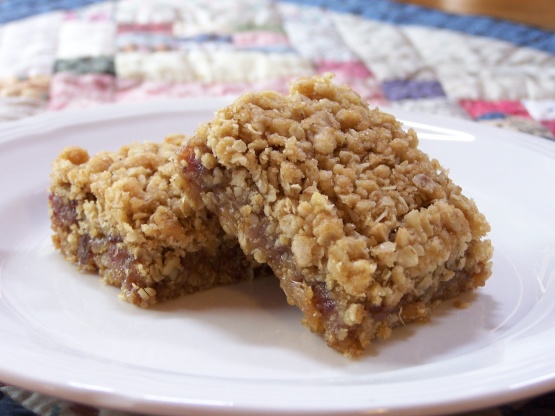 These date squares are a childhood favorite.
I am about to try this recipe, but can I just say I am frustrated by those people who review recipes after they have made significant changes to it. What is the point? Don't you see it is not a review of the recipe if you didn't follow it? Am I the only one who is frustrated by this?
Combine dates, 1 TBSP brown sugar, and water in small saucepan.
Bring to a boil, reduce heat, and cook, stirring often, until dates are soft enough to be mashed with a fork.
Set aside.
In mixer bowl, blend flour, baking soda, and salt.
Cut in butter until mixture resembles coarse crumbs.
Stir in brown sugar and oats.
Do not over mix.
Mixture should stay crumbly.
Press half of crumb mixture over bottom of lightly buttered 8x8-inch pan to form bottom crust.
Gently spread date filling over bottom crust.
Sprinkle remaining oat mixture over date filling.
Lightly pat with palm of hand to even out.
Bake for 25 minutes at 350 degrees.
Cool completely and cut into squares.