Canadian Bacon Potato Soup
Prep 15 mins
Cook 30 mins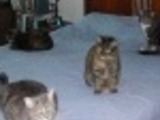 Posted for Zaar World Tour 2005. Identifying a Canadian recipe, for an American, was difficult. Good thing I found at least one good one, on the internet. St. Ives makes a wonderful vegetarian substitute for Canadian Bacon. Lower in fat than the original (which I understand is still pretty low in fat). This is a diabetic recipe, from Taste of Home's Light and Tasty. Exchanges: 1 starch, 1 lean meat, 1 vegetable. I have not tried this yet, but I will. Butter granules are new to me; I might as well experiment.
Directions
In large saucepan coated with nonstick cooking spray saute onions until tender.
Add potatoes and broth; bring to a boil. Reduce heat, cover and simmer for 20-25 minutes or until potatoes are very tender. Set aside 1 cup potato mixture.
Puree remaining mixture in batches in a blender or food processor and return to the pan.
Stir in milk, bacon, butter granules, salt, pepper and reserved potato mixture.
Heat through without boiling. Garnish each with 1 tablespoon low-fat sour cream or yogurt and sprinkle with chives.
Reviews
Most Helpful
ZWT4: Very tasty!! My husband and daughter enjoyed it immensely as well - thank you for sharing!

I made this for ZWT 4 for the Candian crockpot challenge. I did as the first step said and part of step 2. After I brought the mixture to a boil I added it to the crockpot and cooked on low for about 3 hrs. I didn't put mixture through the blender but did put a potato masher in there to break up the pieces. then I did step 4 and cooked for about another 1/2 hr. I used canadian bacon! My dh had this for lunch and loved it! Thanks for posting!

Loved this soup! Easy to swiftly throw together and a delight to partake. The only few changes I made were slight~I was also reviewing this for the ZWT4 Crock pot Challenge thusly used the crock pot methodology. Softened onions is little non-stick skillet, potatoes, broth, onions and S&P went into crock pot for 2.5 hours on high. End of time, whirled up in food processor, added butter, milk, and bacon put back in crock for 30 minutes on high. Spooned out, into the the soup terrine, a bit of chive, sour cream, and bacon bits~ presto~ divine potato soup the Kumquat way. Thanks Kumquat ~ Made for *ZWT4* June 2008.