Canadian Bacon Onion Quiche (OAMC)
diner524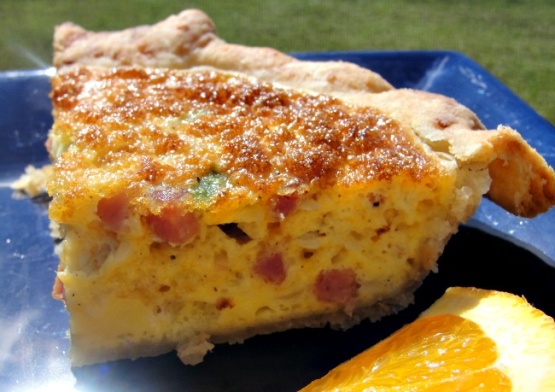 A delicious make ahead that you can freeze for later-- how convenient is that. More time to enjoy my family! Timing does not include chilling pastry. Hope you like as much as we have. I have changed the original method for making pastry and think it works much better.
Wonderful quiche!!! I made the crust the day before and then this morning just rolled it out/filled and had it completed in about 1 hour. I froze 2 portions for later, I made 1/2 of the recipe, using my 6 inch pie plate and it worked perfectly, although a little leftover dough/crust. Really loved the crust, nice and crispy but tasty and very easy to work with. I did use diced ham (when I went to buy the Canadian Bacon found that the ham was on sale as a buy one get one free) and had a bit of green pepper that needed to be used or thrown out, so added that to the mix. Thanks for sharing the recipe. Made for PRMR Tag Game.
In mixing bowl, use beaters to cream butter, add cottage cheese and beat with mixer, using spoon gradually stir in flour.
Form into disk, cover with plastic wrap, and chill for at least 1 hour or up to two days. I cut plastic wrap big enough so that I can later roll pastry out on it so clean up is easy.
Roll out pastry to fit a 9 inch pie plate.
Transfer pastry to greased pie pan.
Trim pastry to 1/2 inch beyond edge of plate; flute edges.
In skillet, sauté onions in remaining butter (1 1/2 t.) until golden brown. It is important to get the onions done to your preference because the baking steps do not cook it much more than this step does.
Remove skillet from heat.
Stir in garlic and set aside.
Put cheese at bottom of pastry, top with Canadian bacon.
in large bowl, add egg and peppers, lightly beat, stir in onion mixture from skillet.
Pour into pastry shell.
At this point, either wrap well and freeze or bake at 350 degrees for 40 to 45 minutes or until a knife inserted near the center comes out clean. (After 25 minutes, I peek to see if crust is browned enough and cover just the crust with foil so it is browned just enough. I hate real dark crust. It is not easy to do but worth it IMO.) Let sit for 10 minutes before cutting.
TO USE FROZEN QUICHE: Remove frozen quiche from freezer 30 minutes before baking. Put rack in middle. Preheat oven to 350 degrees. Place pie on a baking sheet. Bake at 350 degrees for 40 minutes, then cover with foil and move to lowest shelf and bake another 25 minutes or until a knife inserted near the center comes out clean. Let stand for 10 minutes before cutting.