Canadian Bacon and Cheddar Cheese Flan
PaulaG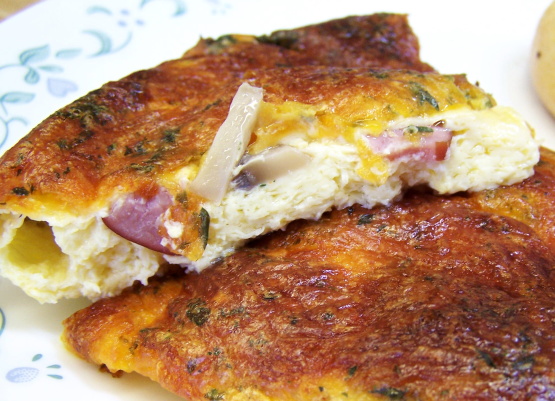 Canadian bacon is a lean, smoked meat that is more similiar to ham than to bacon. It comes from the loin cut. A buttery California Chardonnay with an oaky smokiness will echo the richness of the cream and Cheddar cheese and the saltiness of the bacon here. Try the 2000 Acacia Carneros or the 2000 Chateau St. Jean Sonoma County.

I feel ike I did something wrong 'cause this was very watery in the bottom of the pan. I cooked the mushroom mixture dry so maybe it was the bacon??? It was a little bland for us, too. DH commented there were other quiche-type recipes he liked much better than this. i was really surprised that it didn't work for us. made for ZWT4 Daffy Daffodils.
Preheat the oven to 350°. Butter a 9-by-13-inch glass baking dish. In a large skillet, melt the butter. Add the mushrooms and cook over moderate heat until their liquid evaporates, about 5 minutes. Raise the heat to moderately high and cook, stirring, until browned, about 3 minutes. Transfer the mushrooms to the prepared baking dish. Toss the bacon, parsley and pepper in the baking dish, then spread in an even layer.
In a large bowl, whisk the eggs well. Whisk in the cream, salt and a pinch of cayenne. Slowly pour the custard over the mushrooms and bacon and sprinkle the cheese over the top. Bake the custard for 50 minutes, or until just set. Transfer to a rack to cool for 15 minutes, then cut into squares and serve hot or warm.