Bergy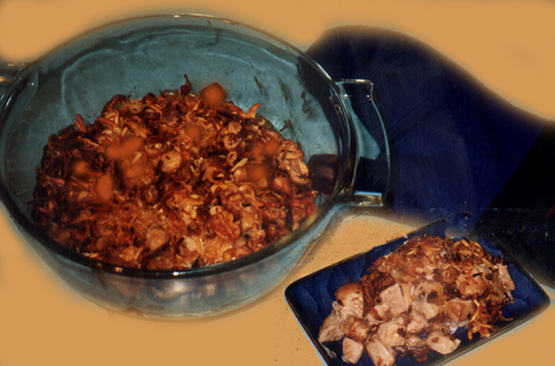 So easy and good. Nice comfort food for weekdays. I must admit though, I did not use canned chicken the first time I made this. I used fresh, skinless, boneless chicken breasts that I sauteed in olive oil -- thus ruining the whole "can" thang. I'm sure canned chicken would be just fine, but I had fresh chicken on hand rather than canned. A bit of soy sauce or maybe a can of peas or mixed "Chinese" veggies could liven it up a bit. Experiment!

Top Review by Bergy
Loved the Title and the concept is great - I did however take a couple of liberties (supply & demand) I used fresh chicken breast stir fried with fresh mushrooms. Instead of a can of chowmein noodles I used crisp in the bag.I cut the recipe in half, Now this sounds like I changed a lot in the recipe but I stuck to the ingredients so I still feel fair reviewing this as your recipe. Lovely appearance but it lacked just a little zing so I added 1 tsp chile flakes and loved it. Thanks Shelley for being so innovative to come up with a "From the cupboard tooven in under 5 minutes"recipe"
2

(5 ounce) cans white chicken meat, drained

1

(10 3/4 ounce) can condensed cream of mushroom soup

1

(10 3/4 ounce) can condensed cream of chicken soup

1

(4 ounce) can mushrooms, drained

1

(8 1/2 ounce) can chow mein noodles

1

(12 ounce) can evaporated milk

1

(6 ounce) can French fried onion rings
Mix together chicken, soups, mushrooms, chow mein noodles and milk.
Spoon into baking dish (9 x 13-- pretty sure).
Bake for 20 minutes at 350 degrees.
Sprinkle with onion rings and bake 10-15 more minutes longer until brown and bubbly.