Nif_H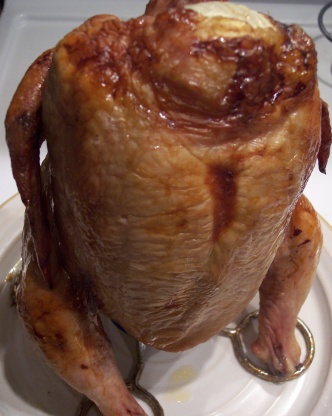 This chicken was so moist and juicy. We loved the blend of spices. It takes a little work to get the spice blend under the skin, or for me it did, but was so worth it. Adapted from Taste of Home. Prep time does not include refrigeration. Hope you enjoy

Top Review by Nif_H
Tender, delicious and easy to put together - we really liked this! I made as directed and the spice was really nice. I have no idea how long it should have taken because my BBQ decided to malfunction and I didn't notice that until I went to check it one hour into cooking! It was very very good and I would make it again. With my BBQ working properly that is! Made for my adopted chef for Fall PAC 2009. Thanks! :)
Mix the apple cider and balsamic vinegar together in a small spray bottle and set aside.
In a bowl, combine the kosher salt, sugar, onion powder, garlic powder, cayenne pepper, paprika and ground mustard.
Loosen skin from around the chicken breast, thighs and legs.
Rub the spice mixture onto and under skin and some inside the cavity. Be sure to get a good portion under the skin.
Tuck wing tips behind the back and tie. (This will keep the wing tips from burning).
Refrigerate for 1 hour.
Pour out half of the beer. (Okay, what was I thinking. Drink half of the beer :) ).
Add the garlic and lemon to the can of beer.
Poke additional holes in the top of the can with a can opener.
Holding the chicken with legs pointed down, lower chicken over the can so it fills the body cavity. I used one of the stands that they sell at Walmart for $2 bucks and it worked very well.
Insert the whole onion into the neck hole as far as you can.
Spray chicken with the apple cider and balsamic vinegar mixture. Spray again half-way through cooking.
Place chicken over drip pan.
Grill, covered, over indirect medium heat for 1 to 1 1/4 hours or until a meat thermometer inserted into a thigh reads 180 degrees. Remove chicken from grill.
Cover and let stand for 10 minutes.
Remove chicken from can (for me this took the help of DH.
Enjoy.