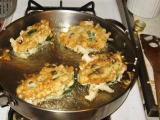 You can make them at home, on the stove, too! Enjoy!
Directions
Mix the ingredients, except for the powdered sugar and the canola oil, into a batter, adding only enough milk to make the batter thin.
Cook on a hot, oiled griddle or no-stick pan, over medium-high heat, turning once to brown both sides.
Plate up individual servings on pre-heated plates and sprinkle the powdered sugar on each serving.
Offer butter and syrup at the table.
Most Helpful
I tried these pancakes at home for the hubby. I'm not aloud to make any other recipe, he loved them.