Deantini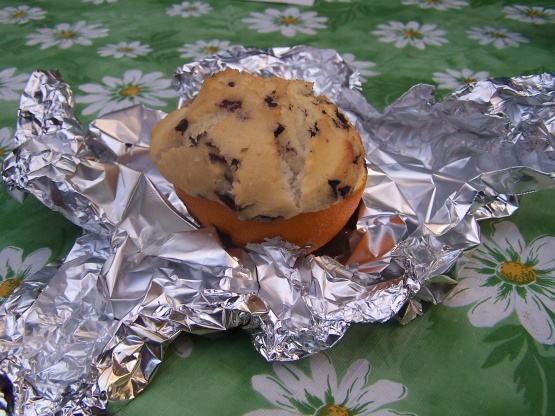 Simple and fun Muffins for the younger ones to do around the fire.

These are so nifty! I liked how moist the muffins came out, and the added hint of orange was a nice compliment to the flavor. I did mine in the oven b/c I wanted to test them out before I went camping. My mom the picky eater loved them. What a great way to conserve clean dishes! Maybe I'll try mini-muffins in lemon halves next time. Thanks!
6

oranges

2

(7 ounce) packages blueberry muffin mix (or any flavor)
Cut oranges in half.
Scoop out the orange segments to eat alone.
Reserve the hollow peel shells.
Prepare the muffin mix according to the package directions.
Fill the orange peel cups half full of batter.
Wrap each one loosely with heavy duty aluminum foil.
Place in hot coals, making sure that the batter side stays up.
Cook 6-10 minutes until muffins are done.
Adding a few berries to the batter adds excellent flavor.
Note: Use 3 oranges per package of muffin mix.