lazyme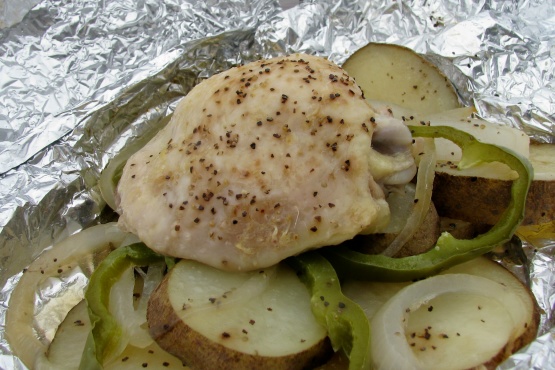 Cracker Barrel restaurant serves something similar to this dish. This is our at-home version. Bone-in meat works best. The chicken flavors the potatoes & veggies so well.

Top Review by lazyme
I really enjoyed this recipe. I made it as directed but found that it took about an hour for the chicken and potatoes to cook. The skin on the chicken didn't crisp up at all so I think that next time I would use a skinless thigh instead. I would think that lots of other veggies could easily be added to this as well with good results. Thanks thedixongang for a nice meal. Made for Fall PAC 2012.
For each packet, place a 10 inches long piece of aluminum foil on the counter. Spray with nonstick cooking spray.
Place sliced potato on the foil. Season them with salt & pepper to taste.
Top with onions, peppers, then the chicken.
Drizzle a little extra virgin olive oil on top of the chicken. Season chicken with salt & pepper.
Wrap the aluminum foil up tightly, making sure there are no tears or "leaks". Double wrap the packets in foil if necessary.
Grill at 400 for 35 minutes, or until done. Or, cook over an open fire.