WiGal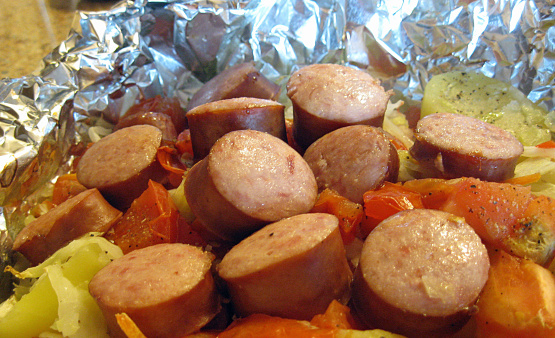 This is a whole meal in one bundle. Makes three bundles and serves six people. Easy and good and no clean up. You can make your own foil or buy those foil pouches already made. Great to take camping.

Top Review by WiGal
Love packet cooking-who wouldn't? Unless you love doing dishes? The aroma is divine! I reduced this for the two of us and did in oven so we could watch Packers. Sliced the onion into 1/4 inch slices, used 2 cups of preshredded cabbage (for the two of us remember) and omitted the butter. Had in oven at 425 degrees F for 35 minutes and the potatoes were not done so increased oven temp to 450 for another 15 minutes. Thank you Mimi for sharing. Made for Spanish forum event.
Place vegetables in order listed on three pieces of double-layered heavy-duty foil (about 18"x18").
Add sausage; dot with butter; sprinkle with salt and pepper.
Fold foil around the middle and seal tightly.
Grill, covered, over medium heat for 30 minutes; turn and grill another 30 minutes till veggies are tender.