diner524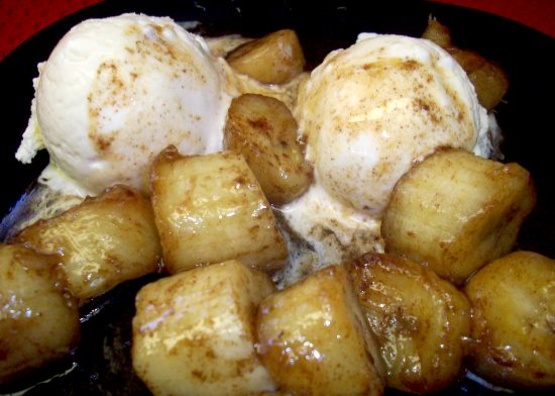 This is a favorite of my Boy Scouts that graduated as Eagle Scouts from BSA Troop 47, Littleton, Colorado when I was their Scoutmaster. We challenged the Scouts to do one "gourmet" dish for each campout, and this was my "example" entry to spur them on to doing more than just beans and weenies. They got the idea quickly and not only changed what they were cooking [for the better] but how they prepared and cleaned up their creations. I have one Eagle Scout that is now an award winning chef working in NYC, largely because of his experiences while camping and earning the BSA Cooking Merit Badge.
This was a different way to make them but sure still is good and clean up is easier. I made as directed except I used real rum and then served over a scoop of vanilla ice cream since I wasn't camping. Thanks Major for another great recipe. Made for Spring PAC 2008 and A taste of yellow for Livestrong Day in the photo forum.
1

banana, sliced crosswise into nine bite-sized pieces

1

tablespoon butter, from squeeze container
1⁄4 cup light brown sugar
1⁄2 teaspoon vanilla
1⁄4 teaspoon cinnamon
1⁄4 teaspoon rum extract
1⁄2 cup diced poundcake (approx. 1 slice)

1

cup prepared frozen whipped topping, French Vanilla flavor, thawed

1

dash ground cinnamon
Remove the skin from the banana (DO NOT cook with peel).
Place banana on non-stick side of a double 12-inch sheet of aluminum foil.
Cut each banana crosswise into nine bite-sized pieces.
Do not cut foil!
Squeeze tablespoon butter over banana pieces.
Sprinkle brown sugar, vanilla, cinnamon, and rum extract over butter.
Wrap tightly in foil, being sure to seal ends.
Place on grill over gas, campfire or coals, seam side up.
Cook for six minutes.
Remove from heat.
Open carefully.
Top with diced pound cake.
Spoon the whipped topping onto the dessert.
Sprinkle topping with dash of cinnamon.
Eat directly from foil.