MomLuvs6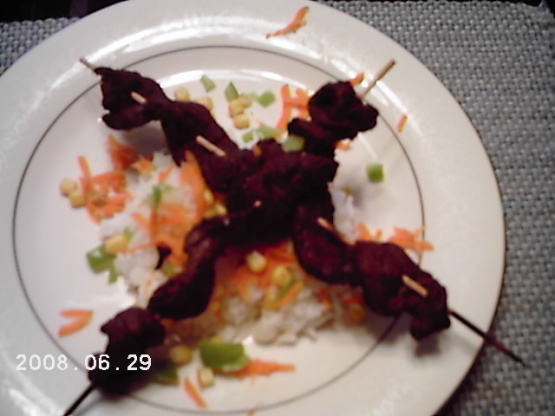 If using a grill, try to avoid cooking too quickly or burning. Posted for Zaar World Tour 2006. Cooking time includes marinating time.
Trim the steak of any fat and then cut into thin strips. Place in a bowl or shallow dish.
Mix the sugar, garlic powder, spices and onion salt together. Add the crushed peanuts, then add this mixture to the steak. Mix well so that the spices are worked into the meat.
Thread the steak onto 6 satay sticks, pushing the meat close together (almost so it resembles ribbon candy, if you can picture how that looks).
Place in a shallow dish, cover loosely with foil and allow to marinate in a cool place for a few hours.
Preheat the grill (or broiler). Brush the meat with a little vegetable oil and then cook over moderate heat for about 15 minutes or until evenly brown.