twissis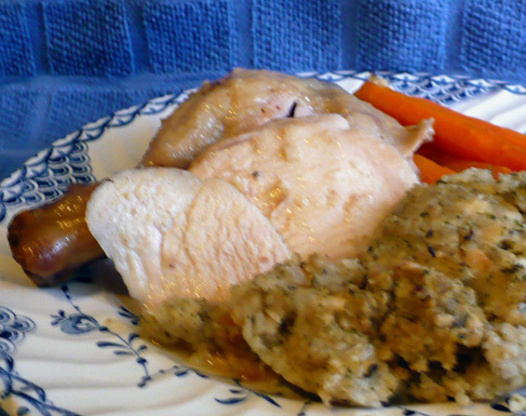 Taken from a clipping some years ago, unfortunately I can't name the magazine. If you're in Australia, it suggests using Tasmanian Heritage brand cheese.

Very tasty and juicy! Ours took a little longer to cook because it was a 5 1/2 pound bird. I wasn't sure when you said to stuff the bird if you meant the cavity (didn't sound like an appetizing place to get the cheese out of) or under the skin, so we went with both! I spread some under the skin and added the herbs, and then I put the 'rindy' bits of the cheese in the cavity with more herbs. Definitely loved it under the skin. I LOVE the directions on putting the pan drippings in the freezer to separate the fat for the gravy! Will be making this one again! Thanks Satyne! Made for ZWT8 Family Picks round.
Preheat oven to 180dc. Stuff chicken with cheese and herbs.
Place chicken onto a wire rack in a roasting pan. Roast for 1 1/2 hours or until juice run clear when the thickest part of the chicken thigh is pierced with a skewer.
Remove chicken to a serving platter and cover to keep warm.
Transfer pan juices to a container and chill in the freezer for 3 minutes. Use a large metal spoon to skim fat from juicse.
Place roasting pan onto stovetop and heat over medium heat. Add wine to pan and bring to the boil, scraping base of pan. Pour in reserved pan juices and cook until headed. Pour mixture over chicken.
Serve slices of chicken with potatoes and steamed vegetables.