Camembert Blue Cheese Spread
Rita1652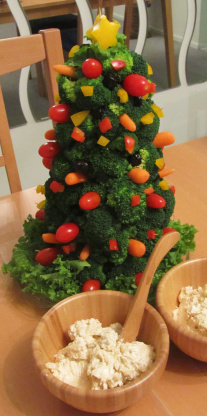 This is a very cheesy spread that goes great with baguette or veggies. I hope you will enjoy it as much as we do.

I must say I didn`t make this recipe. I bought the ingredients and my Sister Lydia Chef #66708 put it together. I know she did add twice the amount of cream cheese. The Onion should really state in amount because a small onion is so different from one type onion to an other. I would think 1/4 cup diced would have been prefect. But! put that aside my Mom sat their eating away really enjoying it. I mentioned all the onion in it. She turned to me and said what this isn`t crab dip? Why she got crab out of it I don`t know but it was the most inexpensive crab dip she ever ate! LOL! I served it along side Recipe #149199
for dipping the veggies into it. It would be yummy on toasted bagels.Thanks Lala made for veggie tag
In a bowl combine camembert cheese, gorgonzola, cream cheese, onion, paprika, garlic powder, rosemary, sage, salt, cayenne pepper, and black pepper until well mixed.
Refrigerate until ready to use.
Enjoy!
Note: You can also heat this (e.g. in the microwave) until the cheese melts; that is really yummy, too.