Cambodian-Style Fish Poached in Coconut Milk
awalde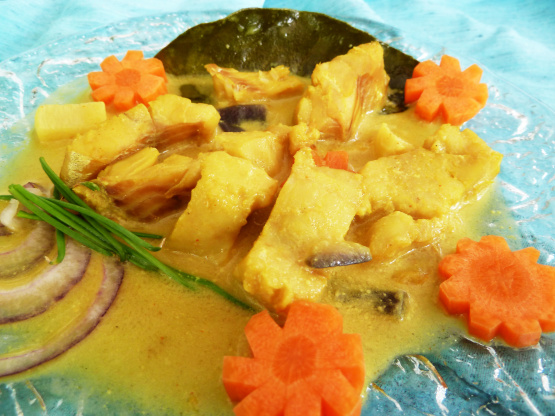 This recipe was featured in our local paper and is a Kylie Kwong and from her cookbook It Tastes Better and her intro to the recipe was "I love this recipe because it is quick and simple to make, yet so exotic in flavour. The galangal, turmeric and kaffir lime leaves add that gorgeous earthy, aromatic flavour so particular to South-East Asian cuisine, and the taste and texture of fish cooked gently in coconut milk are sublime. If you like, you can substitute the fish with any other seafood, or even chicken."

Top Review by awalde
This amazing dish is delicate, flavorful, remembers us our trips in Asia%u2026 and it is really easy!
I processed first the fiber rich ingredients (galangal and lemongrass) with a half cup of water in the blender. I heated this mixture some minutes and I pressed out the liquid. I threw away the fibers. Then I added to the liquid the other ingredients I continued to cook them.
For decoration I used some carrot flowers, some red onion rings, little chives and one lemon leaf.
The lemon juice added directly in the plate gave to this dish the perfect fish!
THANKS a lot for posting this recipe!
Place garlic, red onion, galangal, lemongrass, turmeric, paprika, fish sauce and brown sugar in a blender and process until finely blended.
Add the coconut milk and process until thoroughly blended.
Transfer the coconut mixture to a heavy pased pan.
Crush the kaffir lime leaves in your hand to release their aroma, and add them to the pan.
Bring the coconut mixture to the boil and reduce to a gentle simmer and cook for 10 minutes, to allow the flavour to infuse and the liquid to reduce slightly.
Add the fish chunks and poach gently for 4-5 minutes.
Stir through the lemon juice, then trasfer to serving bowls.