Camarones Borrachos (Drunken Shrimp)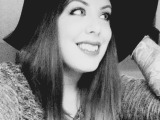 This version is from Casa Cocina, Las Vegas, Nevada.
Directions
Peel and devein the shrimp.
Chop onion finely.
Wash the cilantro in several changes of water, dry it by squeezing it in a towel, and then chop in finely.
Mash the chiptole chile.
Heat a saute pan or frying pan over a high flame. Add butter, onions and chipotle chile.
Season shrimp with salt and pepper.
When pan begins to sizzle, add the shrimp. Stir fry until shrimp are almost cooked, approximately 3 minutes.
Remove the pan from the heat, add the tequila and return it to the flame. Be careful when adding the tequila because it may flame up.
Cook the shrimp for another 2 minutes, add the cilantro, and remove the pan from the fire.
Taste the juice in the pan and season it with a salt and pepper.
Reviews
Most Helpful
We loved this way of cooking shrimp. I used a pound of medium shrimp (about 25). The tequila was a nice touch. Thanks for sharing. Made for ZWT 8.
This a great shrimp recipe, having lots of flavor even with a short cook time. I cut the recipe in half and used about 10-12 large shrimp. After the shrimp cooked I took them out of the pan and reduced the sauce a little which made it rich and creamy. The chipolte is very subtle and goes well with the tequila I'll probable add a little more next time. I had this with a nice cold beer - a perfect combination! Thanks for sharing, made for ZWT 8 by one of The Wild Bunch.