1lizziej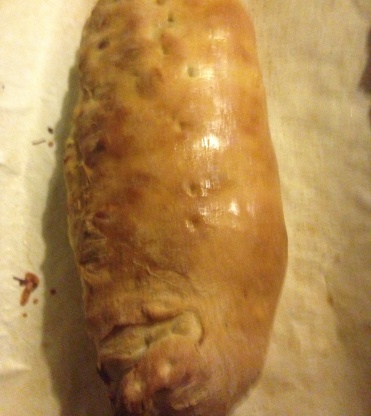 Impress everyone with these delicious Calzones. The filling is what I enjoy, but just like a pizza it can be adapted to any taste.

I didn''t use the Ragu pizza sauce but instead a chunker pasta sauce (Classico tomato-basil) which I think was good. I also added chicken and ham.
Dough: Dissolve yeast in 1 Cup of warm water.
Mix sugar, oil, salt, and flour and then add to yeast and water.
Mix together until smooth.
Knead and cover for 30 min.
In a separate bowl, mix mushrooms, green pepper, onion, Ragu, Italian seasoning, oregano, basil, garlic salt, sausage, and pepperoni.
Roll out dough in an approximate 10" circle.
Place 1-2 cups of sauce mix in center of dough.
Add cheese to sauce in the calzones.
Fold over and crimp shut.
Place on greased cookie sheet.
After 15 minutes cooking brush with melted butter.
Cook for a total of 25 minutes at 375 degrees or until golden brown Cover with remaining sauce and cheese.