Bergy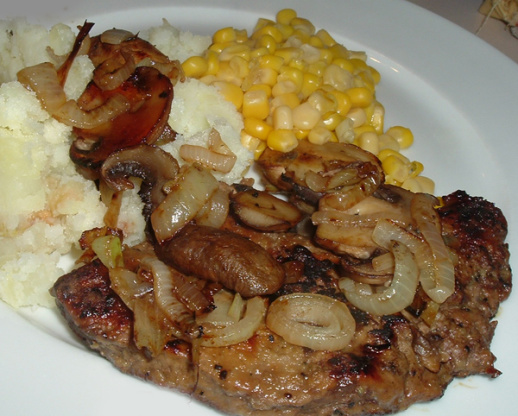 I think this dish has an undeserved reputation. When it's cooked up nice and crisp it's really wonderful. I had kids eating this like crazy, because I didn't tell them what it was!

Wonderful! So easy and quick to prepare and so delicious. I only made slight alterations. First I soaked the calves liver in milk - why - because my Mother said so - she's almost 90 and I'm not about to argue. I then followed your recipe. Besides the onions I added bacon like it has come served in some restaurants when I've ordered it out. I served it with creamed spinach and baked potatoes with butter, sour cream, bacon bits, and a little shredded cheese. I think calves liver gets a bum rap probably because the name prohibits people from trying it. It's great folks - give it a chance. Thanks for the recipe, now I can make it at home.
Cut liver in small serving size pieces.
Salt and pepper pieces.
In a 12 inch skillet heat vegetable oil.
Make sure it is good and hot (I use medium high).
Lightly roll pieces in flour.
Saute in hot oil till brown on one side, turn and brown the other side.
About 4 minutes per side.
Remove from skillet and keep warm.
Add onions to skillet and fry about 5 minutes till crisp tender.
Put onions over liver and serve.