Rita1652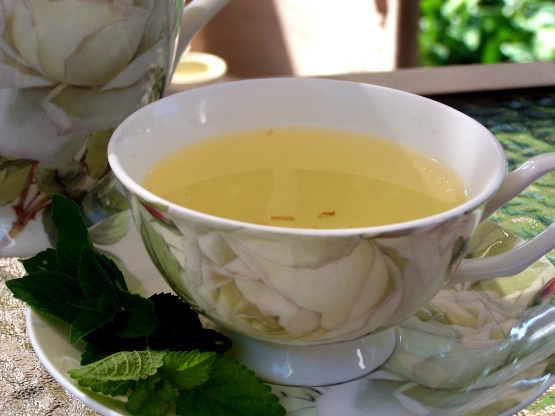 Peppermint tea helps indigestion, head colds, headaches, appetite loss, bronchitis, and fever and gall bladder problems. It can be used as a blood and liver tonic. Lemon balm will perk you up in the morning, help bloating, gas, mood disorders, bronchial inflammation, high blood pressure, mild vomiting, toothache, earache and headaches, has anti-bacterial and anti-viral properties. Lemon balm is said to be good for depression and helps relieve cramps. Great to package and give as gifts too! Recipe originated from Europe-England, France, etc.
I used 5 leaves of fresh lemon balm and 5 of fresh peppermint. That was really good. I love the taste of the mint. Very refreshing. I put the leaves in my cup and pour the boiling water on top. And I let them in the water while drinking. This was beautiful. No photo cause I was at work. Thanks Sharon. Made for 123 hit wonders.
Place herbs in teapot.
Add boiling water.
Steep 5 minutes.
strain and pour into cups.
Add honey or sugar to taste.
Enjoy!