California Raisin Peanut Butter Spread
flower7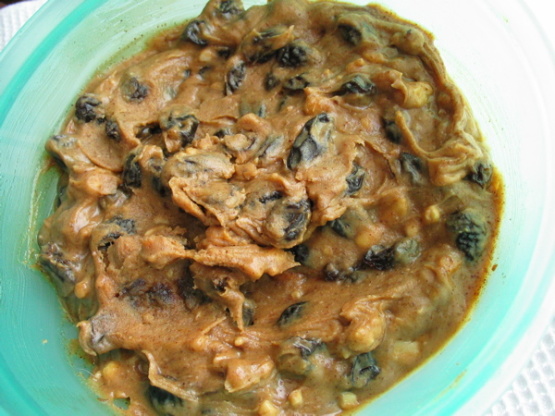 A nutritious after school snack, and also great for anyone as a tasty, healthy snack. I think this is from the California Raisin Board.

This was excellent! I halved it because I only had a little bit of apple juice but now I'm wishing I'd had more! This made a tasty breakfast this morning, spread on flour tortillas. Next time, I think I'll try it on toast or an English muffin. Thanks for the recipe! - Jan 25, 2009. Update: I made this again (a full recipe this time!) and used part crunchy part creamy p.b. - still awesome! :) Thanks again!
Measure raisins and apple juice into small saucepan and bring to a boil; reduce heat to medium and simmer 8 to 10 minutes or until raisins have absorbed all of the juice.
Stir in honey and cinnamon; cool slightly. Stir in peanut butter.
Spread onto graham crackers, bread, mini-bagels apple slices or celery sticks.
Variations: Raisin Peanut Butter Griddlers -- Smear Peanut Butter Spread on whole wheat bread, top with banana slices and grill in a skillet.
Raisin Peanut Butter Tortilla Roll-Ups: Wrap California Raisin Peanut Butter Spread and banana slices in a who;e wheat tortilla and serve in pinwheel slices.
Note: Parents do the prep work, and let the kids assemble the sandwiches or wraps.