California Pizza Kitchen's Dakota Smashed Pea & Barley Soup
Wobin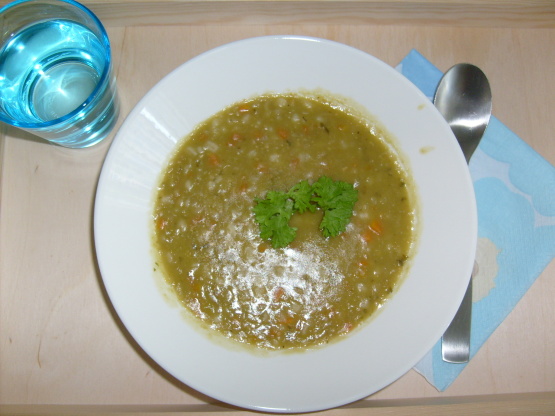 From topsecretrecipes.com I've never even tried the soup at the California Pizza Kitchen, but it sounds good. I'm posting it as much for my reference as anyone elses! ;) Vegetable broth may be substituted for the chicken broth to make this soup vegan.

Always amazing. Only thing I'd say if you are making this for the first time, watch the heat under the soup after it's blended and the barley and veggies are added. It sticks like something out of a horror movie if you don't stir often! So lower the heat and stir a lot, and you won't be sorry. This is amazing next day, served like a dip using saltines for dipping. MMMM.
Rinse and sort the split peas.
Add them to a large pot with 6 cups of water, chicken broth, onion, garlic, lemon juice, salt, sugar, parsley, pepper, and thyme.
Bring to a boil, reduce heat and simmer for 1-1 1/2 hours or until the peas are soft.
While the peas are cooking, combine the barley with 6 cups of water in a saucepan.
Bring to a boil, reduce heat and simmer for 1-1 1/2 hours or until the barley is soft and most of the water has been absorbed.
When the split pea mixture has become a thick soup, use a handheld blender to puree the peas until the mixture is smooth.
A standard blender or food processor may also be used to puree the soup in batches.
This step may also be omitted.
Drain the the remaining water from the barley and add the barley to the split pea mixture.
Add the carrots and celery and continue to simmer the soup for 15 to 30 minutes or until the carrots are tender, stirring occasionally.
Turn off the heat, cover the soup, and let sit for 10 to 15 minutes before serving.
Garnish each serving with the snipped green onion.