California Pizza Kitchen Potato Leek Soup
jerseyms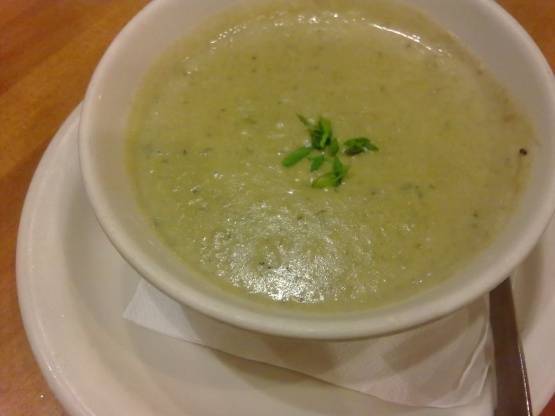 This is from the restaurant chain California Pizza Kitchen. I had to make my own because they keep changing their menu and taking this soup off of it altogether. What a shame, now I have to make a whole pot and eat it until I'm guilty of glutony. I like the caramelized leeks because they lend a lot of flavor to the soup. Once I accidentally over caramelized it (very brown), I thought it made the soup even better but maybe it's because I am used to burnt food.

I used to love going to CPK for this soup and was disappointed when they stopped serving it. I'm not a fan of Thyme but followed the recipe. As it cooked I was thinking I would regret it. No regrets! Flavor was just like CPK's but this soup was too thin. Might try adding more potatoes next time or playing with other ways to thicken it. A little more labor intensive than I would have liked for soup. Next time I'll make a double batch as I'm sure it'll freeze well. Thanks Nado for sharing!
Cut off roots and trim dark green tops from leeks. Discard any tough outer leaves. Cut each leek lengthwise in half, then crosswise into 1/4-inch slices. Rinse leeks thoroughly in large bowl of cold water, swishing to remove sand. Transfer leeks to colander to drain, leaving sand in bottom of bowl. Repeat process, changing water several times, until all sand is removed.
In 4-quart saucepan, combine potatoes, salt, oregano, thyme, pepper, bay leaf, half of leeks, and 3 cups water; cover and heat to boiling over high heat. Reduce heat to low; cook 5 minutes or until potatoes are very tender. Discard bay leaf.
Meanwhile, in nonstick 12-inch skillet, heat oil over medium heat until hot. Add remaining leeks and cook 10 to 12 minutes or until leeks are tender, stirring frequently. Stir in soy sauce and cook 1 to 2 minutes or just until leeks are evenly browned, stirring constantly. Transfer leek mixture to saucepan with potato mixture; stir in broth.
In batches, ladle potato mixture into blender; cover, with center part of cover removed to allow steam to escape, and blend until pureed. Pour puree into large bowl. Repeat with remaining mixture. (OK, I skip this step and just put my stick blender into the soup pot and puree the whole thing.).
Return puree to same saucepan; stir in half-and-half and heavy cream. Heat soup over low heat just until heated through, stirring occasionally (do not boil). Serve soup hot, or cover and refrigerate at least 4 hours or up to 24 hours to serve chilled later. Sprinkle soup with sliced green onion to serve.